The past few years I have had the pleasure to work with drummer Andrew Nesbitt, who I have always called Nez. He is now moving on, heading to New York where there are certainly bigger and grander things available to him. I met Nez on another project where we were working with Singer/Songwriter Max Klau. The timing was great for me as he was a nice fit for filling that role in my own project. And he became a friend.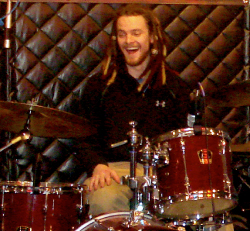 As a musician, he always has an easy feel that never seems forced, interprets grooves intuitively, plays with those nano-beat segments very effectively, and listens (a rare trait).
As an individual and band-mate, he also brings an easy, no hassle, drama-free attitude making it a joy to collaborate, experiment and express.
As a performer, he has a fantastic stage presence – somewhere between surfer dude, Rastafarian and party-time groove master.
I wish him nothing but the best and dread having to replace him. If you're reading this and you're in the New York area, look him up. Find him at a gig (or hire him for a gig) and say hello to him for me. He is a person worth getting to know and a musician worth listening to and supporting. Good luck Nez. We have two more gigs together before your next great adventure. I'm looking forward to the shows and when July hits and this chapter is in your rear view mirror, I hope our paths cross again. Be well and stay thirsty my friend.